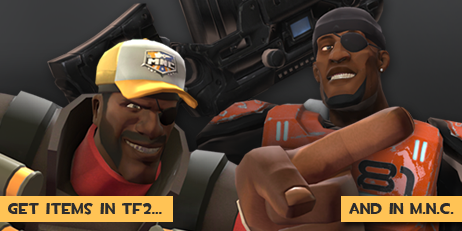 Monday Night Combat has been on the Xbox Live Arcade since August 11, 2010 and today is the release date for it's PC debut through Steam. The TF2 Team is giving anyone that purchases the game on Steam through 10 AM PST, February 1, 2011 cross game items as a promotional boost. TF2 players will receive two unique hats and a scout miscellaneous accessories item. MNC players will receive class items that reflect their TF2 counterparts.
Here's a summary of the new items:
Bonk! Slash!: Spy mask and Scout headphones worn by Assassin
Mental Illness: Sniper hat worn by Sniper
Jet Guns Are Better: Pyro's gasmask worn by Tank
Eye Lad: Demoman's cap and eyepatch worn by Assault
Bavcon: Heavy's bandolier worn by Gunner
Doctor Dispenser: Medic's backpack and Engineer's hardhat worn by Support
The Athletic Supporter: Available for every TF2 class
The Superfan: The Mascot's hat worn by the Scout
The Essential Accessories:The Mascot's wristbands, socks and shoes worn by the Scout
One thing I love about MNC is the cheap price, $15 for a good game is hard to come by when you're normally expected to pay upwards of $50-$60 for a new game of the same quality. If you're interested in playing, check out the
MNC store page
on the Steam website.