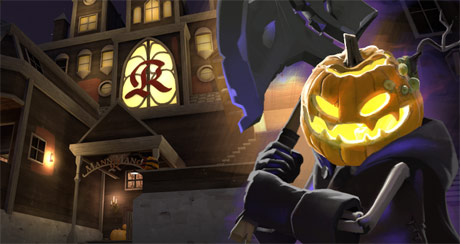 Yes! It's that time of years for spooky costumes, reruns of Halloween, and the ensuing wave of all sorts of new content in the video game and entertainment world.
The Second Annual Team Fortress Halloween Special
is here! Now, I first bought Team Fortress 2 for my Steam account around this time last year because there was an amazing sale for it I couldn't pass up. The first Halloween event was great, so I've really been looking forward to this years event.
One of the new features for this event is the first boss monster in Team Fortress 2, the Horseless Headless Horsemann. It sounds like a great idea, everyone works together to kill it or you can just watch as it goes around killing everyone else. I don't know much about it yet, but it sounds exciting.
Currently the Steam servers have been under a lot of stress trying to handle all the Steam client updates for the new event and patches for their other games so I decided to post this as I wait for all the traffic to clear up. On that note, see you guys later, time to see what it's like first hand!